Bella Venetian Beads is a direct importer of Venetian and Murano glass beads. Made from Effetre glass, Bella Viaggio beads combine the craftsmanship of centuries old techniques with the beauty of 24kt gold, white gold and silver foils and aventurina.
We are proud to introduce our Bella Viaggio Collection, featuring modular beads designed to fit on major manufacturer's bracelets and necklaces. One look will show them to be stunning in color and quality and we are confident your customers will love them.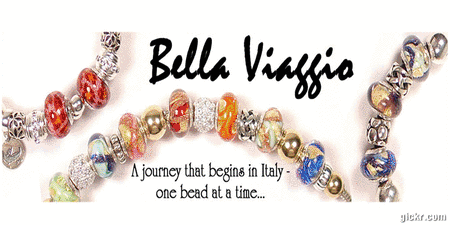 Unlike other brands, Bella Viaggio beads are not made in China, Romania or some other European country by "Murano masters" and passed off as being Italian. Our Venetian glass beads, with large holes, are handmade in Italy using genuine Effetre glass from Murano and have rhodium plated sterling silver rivets. Using cernturies old techniques, they are made on a copper wire and then dipped in nitric acid to disolve the copper from the bead's center. After being given a water bath, they are then kiln annealed to increase their strength and durability. We are so proud of the quality of these beads we are not afraid to offer an enlarged picture showing their detail and craftsmanship. We would also encourage you to get out your loop and take an even closer look. For unmatched quality you'll notice immediately - look no further than Bella Viaggio.